Marine Salvage Rubber Airbags
Through listening to our customers, DOOWIN has developed the heavy-duty marine rubber airbags, which are the toughest marine salvage airbags.
DOOWIN marine rubber airbags are the system of choice where reliable, controllable buoyancy is required. They are particularly suited for installation buoyancy on pipeline float-out, beach pulls and river crossings. Our marine rubber airbags have also been used in applications such as vessel and platform draught reduction in limited water depths. And as salvage pontoons for temporary bridges and docks. The salvors can use marine rubber airbags to salvage the shipwreck, rescue the floating bridge and dock construction.
It really comes into own when marine rubber airbags employed in heavy-duty salvage work under severe environment.
DOOWIN marine rubber airbag is enclosed cylindrical shape buoyancy units. Constructed from high tensile out rubber layer, multilayer heavy-duty synthetic-tire-cord layers, and an inner rubber layer vulcanized firmly.
Marine rubber airbags are cylindrical balloon body, with two conical head and end mouth, fitted with air tightness swivel and air inlet kits at end mouth. Polyester webbing lifting straps are around the whole marine rubber airbag body. The total lifting of these straps maintains a minimum 6:1 safety factor of its buoyancy. Can equip the auto pressure to relieve valves, which can open when inner pressure reaches rated pressure.
Marine Rubber Airbags Specification
Different combination of diameter and length, make marine rubber airbags achieve different buoyancy capacity.
Features and Advantages
All DOOWIN marine rubber airbags are manufactured and tested comply with ISO 14409 "Ships and marine technology – ship launching air bags" and IMCA D016 Underwater Air Lifting Bags, certificated by third party classification society.
Super-high Tensile Strength — Heavy-duty synthetic-tire-cord layers is framework material of our marine rubber airbags. It can bear super high working pressure, even for the deep water from the surface operation.
Resistant to Abrasion — The thickness of DOOWIN marine rubber airbags is up to 12mm or more. So it can resistant the scratch and abrasion under severe environment. Even damage the out rubber layer. The inner synthetic-tire-cord layer also can work well.
Multiple Applications — Can use marine rubber airbags for the surface buoyancy support same with enclosed air lifting bags. Also can use it for the salvage work from deep water to the water surface.
Marine Salvage Airbags?
Which type marine salvage airbags to use? PVC Marine Salvage Bags VS Marine Rubber Airbags
Ship Launching Airbags
Ship launching airbags, also known as roller bags or ship launching balloon, are made of heavy-duty synthetic-tire-cord layers with inner and outer rubber layers in a long cylindrical balloon shape. Marine rubber airbags can be used for the ship launching, ship landing work.
Ship launching relying on marine rubber airbags is an innovative ship launching technology, comparing with "end-on launching", "side ship launching", "float-out". This ship launching technology overcomes the restrictions of the fixed launching track of side-launch. More and more shipyard accept ship launching rubber airbags worldwide because of its huge advantages.
Lifting Rubber Airbags
Heavy lifting airbags have a different structure with the ship launching airbags. Not the simple another application of ship launching airbags. It can roll steadily when taking the load. The inferior lifting airbags are easy to twist. DOOWIN high-pressure heavy lifting airbags are the toughest large pneumatic lifting bags for the huge and heavy structure, concrete caissons lifting and moving.
Based on the traditional ship launching airbags, we update Our updated and improved h-pressure heavy lifting airbags. This improves make heavy lifting airbags are more suitable for the heavy lifting work. The highest lifting capacity of each heavy lifting airbags can reach more than 1000 tons.
Multiduty Marine Rubber Airbags
DOOWIN marine rubber airbags provide the perfect solution for marine salvage, ship launching, heavy lifting.
Their strength, durability and excellent resistance to extreme conditions, makes them ideal for any working environment.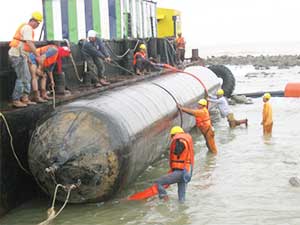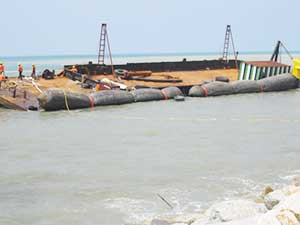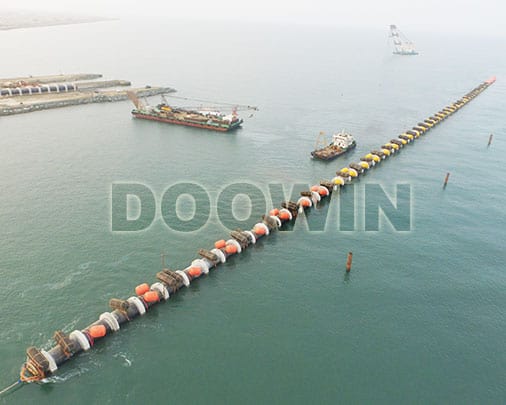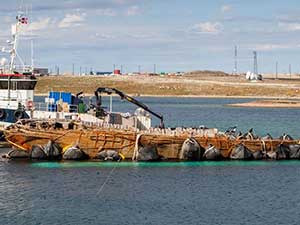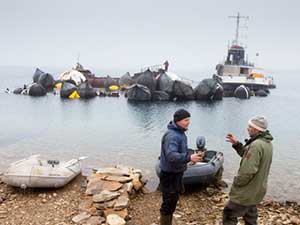 What type of marine rubber airbags?
Please contact our professional team!
Arc-Shaped Pipeline Floaters