Inflatable Buoyancy Units
DOOWIN inflatable buoyancy units are one kind of cylindrical shape fully enclosed buoyancy bags. It is known as salvage pontoon, totally enclosed air lift bags, or buoyancy bags. 
Enclosed inflatable buoyancy units provide an ideal static buoyancy system for CABLE, PIPELINE, HOSE. Inflatable buoyancy bags can be attached to the pipe along the pipeline suitable for installation buoyancy on pipeline float-outs, beach pulls and river crossings. The customer can tie the inflatable buoyancy bags to the pipe horizontally. The user can control its buoyancy to allow the load to settle gently into the correct position.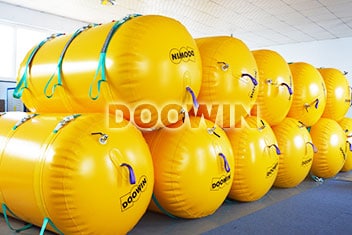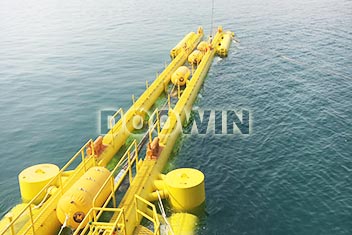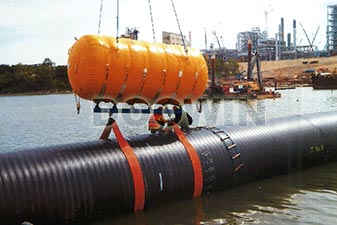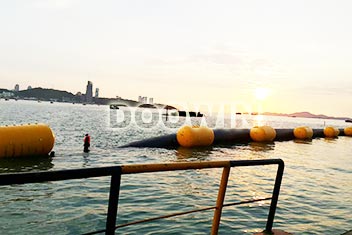 Why DOOWIN Inflatable Buoyancy Units?
Advanced design and production technology. The strict quality management system.
Top quality with a competitive price. DOOWIN inflatable buoyancy units are your first choice.
Specification of Inflatable Buoyancy Units
DOOWIN inflatable buoyancy units have commercial buoyancy bags and professional buoyancy bags. The standard color is yellow. But, the orange color is available upon request. We also can design and supply upon clients' request and special projects.
Note: Gross Weight is shipment weight after packaging with all accessories. The above specification only for your reference. We maybe change its size without notice.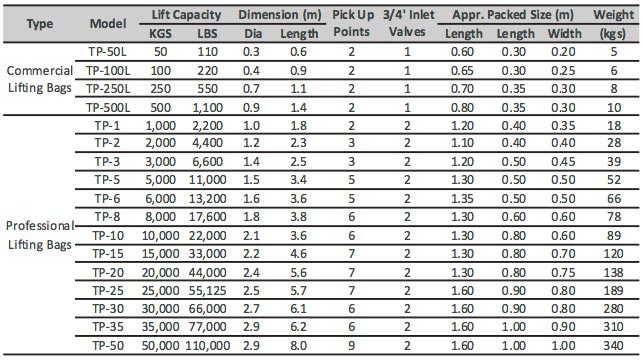 Top Quality Pipeline Inflatable Buoyancy Bags
DOOWIN design and test the inflatable buoyancy units comply with IMCA D016.
The enclosed inflatable buoyancy units are certificated by BV, ABS, LR third party organization.
All PVC coated fabric material, which is used for inflatable buoyancy units, was certificated by SGS.

ABS Inspection Certificate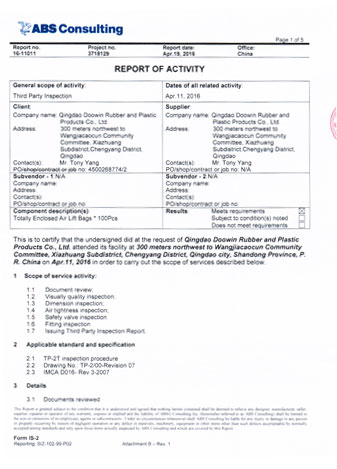 BV Inspection Certificate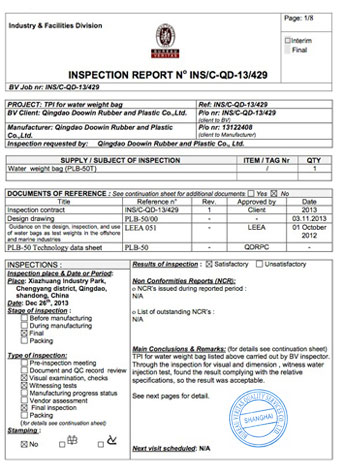 LR Inspection Certificate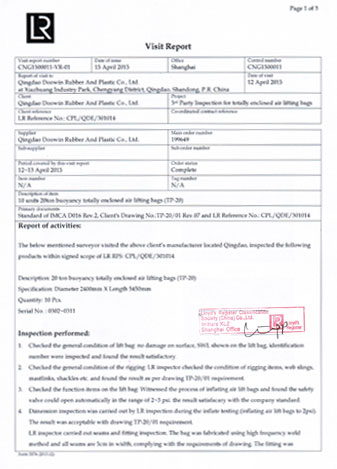 How Can We Help You?
Please contact our professional team!
Arc-Shaped Pipe Floaters
Recently, we designed one kind of new arc-shaped pipe float buoys. This type of pipe float buoys can connect with the pipe closer to get more buoyancy in the shallow water condition. We can make pipe float buoys according to the different diameter pipe. The buoyancy is from 1ton to 10ton each unit.
Arc-shaped pipe floater has three lifting webbing sling. So pipe laying float can be strapped to the pipeline to reduce the tension and weight in the pipeline during the installation. The pipe laying float buoys can provide the buoyancy when pulling the pipeline underwater.
The advantage of arc-shaped pipe floater:
It can provide higher buoyancy at the same water depth
Different diameter design for various diameter pipe
Easy to install and remove
Equipped with the auto pressure release valve
Customized size available