Gangway Water Bag Test Weights
Gangway water bag test weights can be used for the load testing of gangway, accommodation ladder, small bridge, platform, floor and other long structures.
Our standard gangway test water bags are 650L and 1300L capacity. For the larger gangways and small bridges can be tested with our 1 tonne Matress Bags (MB1000). We also can make other size and shape load test bags upon the clients' special request.
DOOWIN gangway load test water bags are made of heavy-duty PVC coating fabric material. Each gangway load testing bags equip with one filling valve, one discharge valve, and one air-relief valve. The discharge valve can be controlled by one rope. There are some handles at both sides. The worker can fix the water bag test weights by these handles.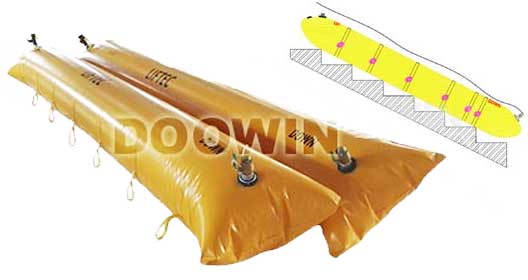 Water Bag Test Weights Specification
| Model | GW6000 | GW4500 | GW3000 |
| --- | --- | --- | --- |
| Capacity | 1300L | 1000L | 650L |
| Length | 6000mm | 4500mm | 3000m |
| Filled Width | 620mm | 620mm | 620mm |
| Filling Valve | Yes | Yes | Yes |
| Discharge Valve | Yes | Yes | Yes |
Load Test Bags Technical Data
Brand:  DOOWIN
Material:  PVC Coated Polyester Fibre
Material Weight:  1700 GSM/m2
Material Thickness:  1.4mm
Filling Port:  3/4" Stainless Steel Ball Valve
Extras: Pressure Relief Valves, Air Bleeder, Anchor Handles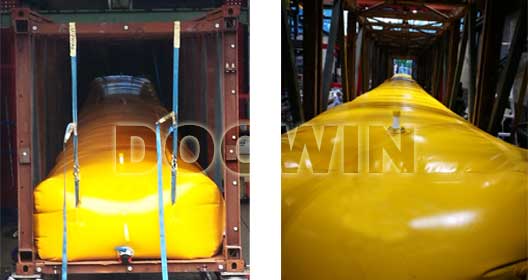 Simple, Effective Load-bearing Structure Test Way
DOOWIN gangway water bag test weights provide the perfect solution for uniform surface load testing.
Their strength, durability and excellent resistance to extreme conditions, makes them ideal for the gangway load test.
What capacity water weight bags?
What capacity crane do you want to test?
Please contact our professional team!