Proof Load Testing Services
DOOWIN provides proof load testing services to customers across China and even more throughout the world.
We have a highly trained and licensed professional engineering team. So, they can perform any proof load testing projects.
As a result, except below testing, we also provide the proof load test services for building roof testing, construction crane testing,
derrick load testing, offshore crane load testing, spreader beam load testing, gangway load testing, winch load testing.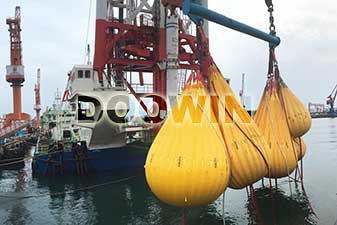 Crane Load Testing Services
Water weights bags can load test most of the cranes. Water bags are convenient than traditional stackable crane test weights. You can fill the water bags slowly. So the crane problems can be recognized and corrected prior to reaching the rated testing load.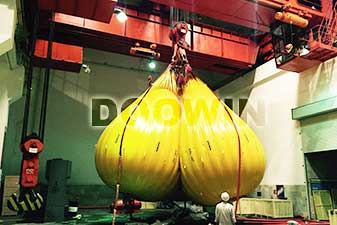 Overhead Crane Load Test
DOOWIN offer expert proof load testing services for the overhead crane and bridges crane, jib and gantry cranes using our water bags test weights. So, we can do proof load testing service for initial commissioning after repairs and periodically inspects of cranes.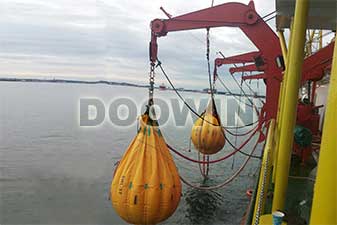 Lifeboat Davit Load Test
For proof load test lifeboat davit system, we offer certificated professional test weight water bags 1t~20t. The required proof load testing can be accurately applied to ensure compliance with applicable regulations and proper lifeboat davit testing.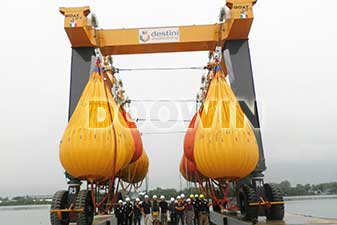 Boat Hoist Load Testing
Boat hoisting cranes of all types can be proof load tested using water test weight bags. These cranes are typically located in marinas and shipyards and are utilized to launch and recover vessels weighing up to 1,200 tons.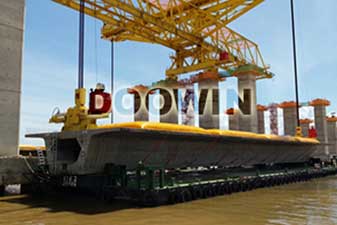 Bridge Load Testing
We offer onsite bridge load testing for vehicle bridges, railroad bridges and lift bridges. Load testing is performed during and after construction, after repairs or upgrades to the bridge and as part of periodic inspections of the bridge to ensure structural integrity.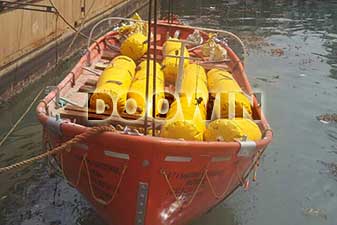 For lifeboat load testing, the small size water bags can be arranged inside the vessel to simulate passenger loading. The water weight can be controlled accurately by professional filling and discharge lifeboat water bags system from far place.
Rental and Proof Load Testing Services
We maintain an extensive inventory of water weights bags (1t~100ton ) and pipeline buoyancy units (1t~5t) in the Middle East and Southeast Asia. Ready for rental to customers across neighboring countries and even more worldwide.
H2O Weights
Safe Marine Service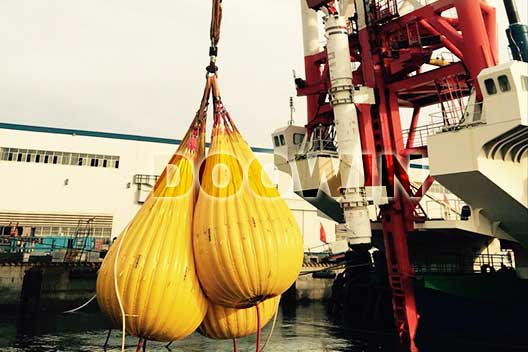 Water Bags Test Weight Rental
Our water bags are available for rental in capacities 5t, 15t, 25t, 35t, 50t, 75t, and 100ton. The users can cluster several together and stacked with a rigging system, to achieve test weights of up to 800 tons. Don't need the spreader beams. You can rent all the water bags and equipment from us to perform your proof load testing work.
All our rental water weights bags are manufactured complying with LEEA 051. We will inflate and inspect all our rental water bags following each use. While we will replace or repair each worn or damaged parts to ensure the integrity of the equipment for the next project.
>> See more information about Water Weight Bags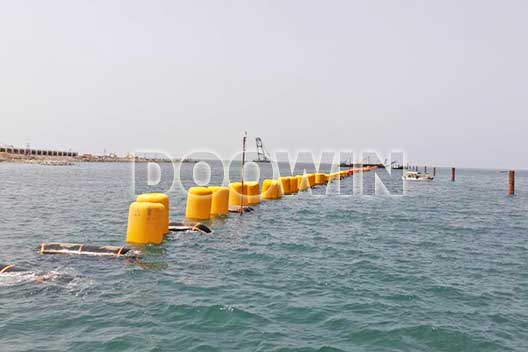 Inflatable Buoyancy Units Rental
Our marine salvage bags and mono buoyancy units are available for rental in capacities 1t, 2t, 3t, and 5t available. The total buoyancy of all marine salvage airbags and mono buoyancy units is about 2000ton. It is the best solution to the short period project. We can deliver the pipeline buoyancy units to anywhere in the world.
Our pipeline mono buoyancy units are type tested by drop test with 5:1 safety factor comply with IMCA D016. So, we inspect and repair all our rental mono buoyancy units after each use ready for the next project. Certainly, we also have marine salvage bags for rental too.
>> See more information about Pipeline Buoyancy Unis
Do you want the invaluable technical insights and engineering expertise for your project?

Industry & Application
DOOWIN products and services to industrial customers in the oil & gas, defense, construction, process, maritime and shipping. Also include
power generation, agriculture, transportation, military, heavy manufacturing industries and other no limited sectors that we can work for.
Pipeline Installation Buoyancy
Marine Salvage and Refloatation
Buoyancy support is the main business area. We made wide range and various type marine salvage airbags, underwater air lift bags, and inflatable buoyancy units. Customers use these air lifting bags for underwater and in shallow water, surface to provide buoyancy support for global diving, marine salvage industrials, pipeline laying work.  The diving work can use open bottom lift bags. The marine salvage work can use enclosed buoyancy units.
The main application area includes:
For the raising sunken objects, vessel marine salvage, marine structure stabilization, underwater equipment transport, pipeline laying and towing, buoyancy support, and standby emergency buoyancy, and other application.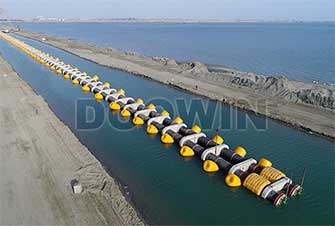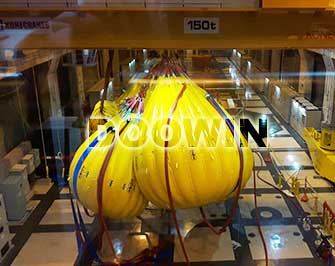 Proof Load Testing with
Certificated Water Weights Bags
DOOWIN load test water weights bags provide the safest, most practical, and economical method of crane test weights.
Marine: Offshore Rig, Ship Building and Repair Company, Shipping Company, Dock & Harbors use testing water bags for the following application. • Cranes; • Derricks; • Davits; • Winches; • Lifeboats; • Ramps & Lifts

Industrial: Power stations, refineries, factories and crane companies among others use for weighing in a wide variety of application include. • overhead cranes; • beams; • gantries; • elevators; • monorails
Engineering: Specialized water weights products and services are used by structural engineers, construction companies, naval architects; engineers and logistics management companies for. • floor and bridge tests; • ballast and counterweight; • water and liquid storage; • load measurement; • Cargo manifesting and data logging
Water Bladder Tanks
Pillow Shape, Open Top Type Tanks
DOOWIN make many types of water bladder tanks for the bulk water or fuel storage by PVC or TPU coating fabric. The main application area include follows.
Food Products: Flat Beer, Animal Oils, Beer Syrup Concentrate, Jam, Egg-Liquid, Fruit Juice Concentrate, Glucose, Malt Extract, Water, Sauces, Sugar Syrup, Vegetable Oils, Wine, Corn Oil, Olive Oil, Palm Oil, Sorbitol, Fish Sauce, Milk, Dark Soy Sauce
Industrial/Chemicals: Lube Oils, Transformer Oils, White Oils, Silicate Binder, Natural Latex, Synthetic Latex, Glue, Glycol, Base Oils, Detergents, Glycerine, Adhesive, Emulsions, Water Based Paints, Hair Shampoos/Conditioner, Mineral Oils, Lanolin, Tall Oil Fatty Acid, Pharmaceutical Ingredients, Paper Pulp, Optical Brightener