Pipe Laying Floats
The pipe laying floats can be strapped to the pipeline to reduce the tension and weight as pipe deployment floats. The pipe laying floats also can be used to provide the buoyancy when pulling the pipeline underwater.
Arc-Shaped Inflatalbe Pipe Laying Floats
Inflatable pipe float is one kind of arc-shaped pipeling laying buoys. This type pipe float buoys can connect with the pipe closer to get more buoyancy in the shallow water condition. They can be adapted to various pipe diameter. The buoyancy is from 1ton to 10 ton each unit.
Arc-shaped pipe floats has three lifting webbing sling. So pipe laying floats can be strapped to the pipeline. These pipe floats are used to break down the immersion velocity during pipe laying operations, as well as avoiding excessive bending of the pipes at time of deployment at sea.
Features and Advantages
DOOWIN pipe floats are designed depending on the different diameter, working water depth, and project's requirements. We can make the paral type, oval type, and other non-standard type buoyancy module upon the client's request.
These pipe floaters are widely used for the pipeline laying work because of it's below advantages and features:
It can provide higher buoyancy at the same water depth
Different diameter design for various diameter pipe
Easy to install and remove
Equipped with the auto pressure release valve
Customized size available
Easy storage and transport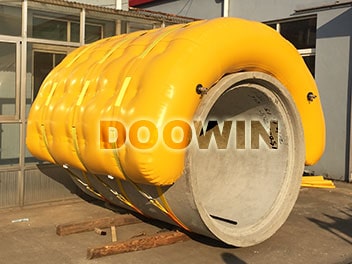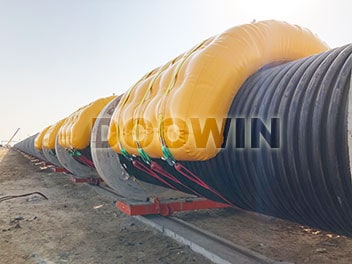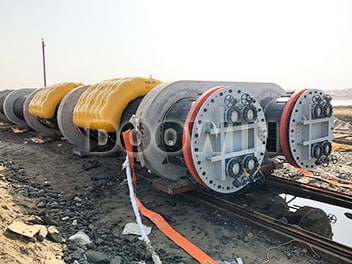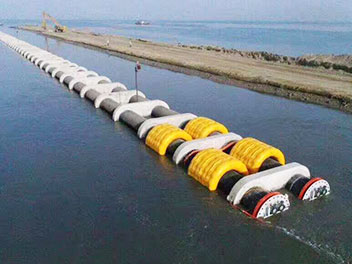 Other Shape Pipe Deployment Floats
DOOWIN pipeline buoys modules provide the perfect pipe float solution for pipeline laying work.
Their strength, durability and excellent resistance to extreme conditions, makes them ideal as pipe floaters.
What type pipeline foam buoys do you want?
Please contact our professional team!