DOOWIN 110T water filled proof load bags is the world's biggest proof load water bags. Our 110t proof load bags can reach over 110T capacity. We tested this 110t load test water bags dynamically under BV inspector witness. DOOWIN water filled proof load bags are a unique, safe and highly certified product specifically designed to provide a test load instead of traditional solid test weights.The use of water filled proof load bags for load testing cranes, davits, derricks, winches or any item of lifting equipment is recognized worldwide as the most safe, efficient and cost effective system of load application.
110t proof load bags have many advantages compared with the 50t or smaller capacity water bags. It can save labour and time. Several workers can assemble all water bags within shorter time. Especially for the big capacity crane load testing. For example 500t load testing, do you want to use 5 x 110ton or 10 x 50ton? This way, you donot need the lifting beam.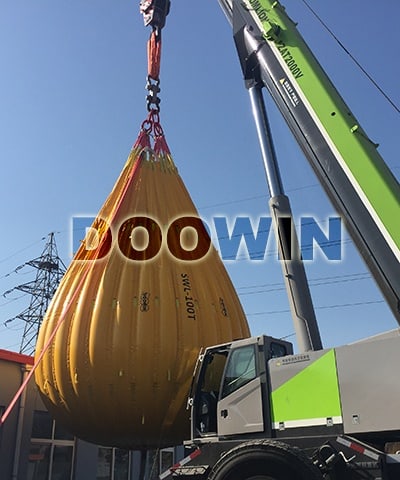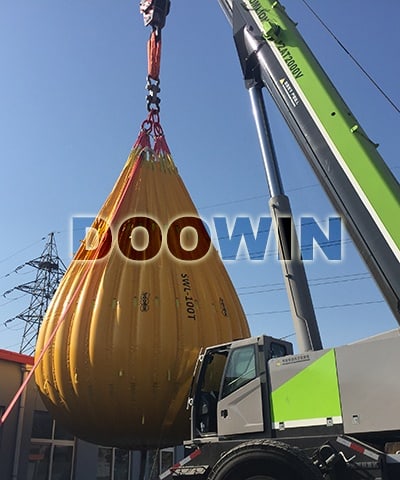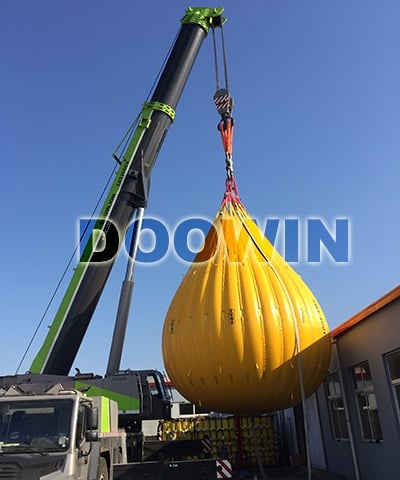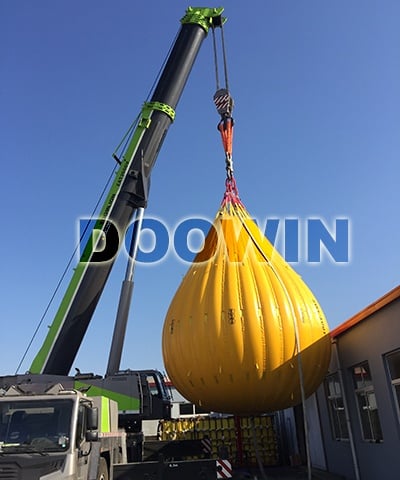 About DOOWIN Proof Load Bags
DOOWIN offer the proof load water bags meet the need for the simple proof load testing method instead of traditional solid load testing weight method.
Our proof load water bags are designed for proof load testing for the lifting equipments and structures that request proof load testing weight when it's newly finished, or periodic check or maintenance. Such as crane load testing, beam load testing, davit water load testing, derrick water load testing, overhead proof load testing. This proof load test water bags offer one kind innovative water load test weight solution with the advantages of Safety, Economy, Convenience, High Efficiency.
DOOWIN is Chinese leading professional manufacturer. Our proof load water bags are manufactured and tested comply with LEEA 051. The main capacity is from 1ton to 100ton. We use the world class PVC coating fabric material and highest quality accessories, like filling/discharge hose, shackles, masterlinks. DOOWIN proof load water bags are the Chinese unique supplier, whose water bags pass drop test type certificate. Meanwhile, we also can provide BV, LR, LR, ABS, DNV third party certificate.
Click the following links to see more proof load bags.