Our esteemed customer KONECRANES finished another 150 ton crane load test. This crane has low headroom working height. In order to reach the rated load testing weight within limited height, have to design the special low headroom water bags. The point is normally the height of empty is longer than the height filled with water. After doing much calculation, our engineer design fours PLB-40ton water bags according to the working height. These crane load test water bags finish this load test job successfully.
DOOWIN can design any size and shape crane load test water bags upon specific project requirements. Our special design is without any extract charge. If you have any special request, please donot hesitate to contact us.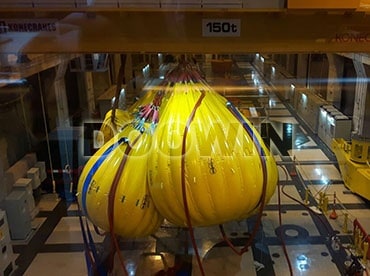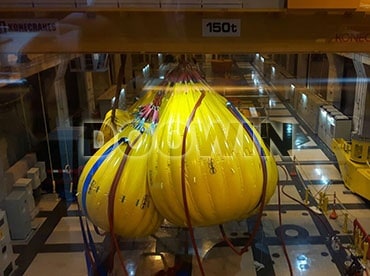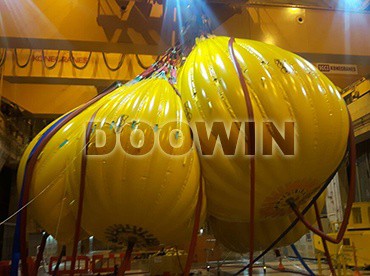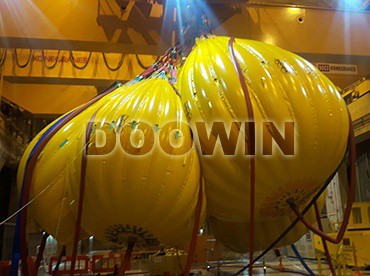 About Low Headroom Water Bags
DOOWIN offer low headroom crane load test water bags used for the lifting equipment and structures when load testing operation have low headroom.
DOOWIN low headroom water weight bags is designed with short height for the testing where headroom is restricted. These water weights bags are designed for use of only one water bag each lifting point. Proof load test water bags are the simple proof load testing method instead of traditional solid load testing weight method. Water bags can be used for the proof load testing for the lifting equipments and structures that request proof load testing weight when it's newly finished, or periodic check or maintenance. Such as crane load testing, beam load testing, davit water load testing, derrick water load testing, overhead proof load testing. This water filled proof load bags offer one kind innovative water load test weight solution with the advantages of Safety, Economy, Convenience, High Efficiency.