DOOWIN engineering team successfully finished another crane load testing project using our water weights proof load bags. We provide proof load testing services and water bags to buy or rent to companies across China and throughout the world. We are stocking many different size water weights bags and load cell. Our experienced engineer team can contract any load testing projects.
Crane Load Testing Project Background
This is the main crane of deep diving work support vessel "ANDY WARHOL". This DSCV is built by Wuchang Shipbuilding Group for Ultra Deep Offshore. The safe working load of this crane is 150ton. The owner requests the 1.1 times of load testing. So filling water up to 165ton. Because our proof load bags has 1.2 times the capacity of its rated capacity. We used 3 units PLB-50ton water weights bags. It is very suitable for this kind of load testing.
MACGREGOR supplied this crane. MACGERGOR shape the offshore and marine industries with leading cargo and load handling solutions and services. Their engineers operates this crane to do the load testing. The inspector of classification society also witnessed the whole proof load testing. Finally, this crane load test project was finished successfully. The owner appreciated our good performance.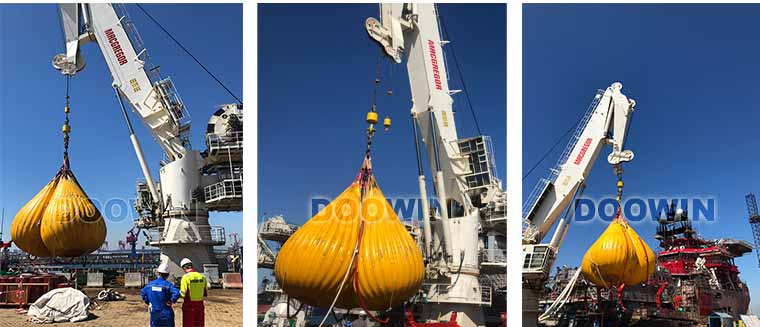 What is Water Weights Proof Load Bags?
Water weights proof load bags is one crane load test weights. Water weight bags are simple and safe crane test weights designed to provide proof load testing instead of traditional solid load test weights.
We design the load test water weight bags for proof load testing the lifting equipment and structures that request proof load weight testing. When it's newly finished, or periodic check or maintenance. Such as crane load testing, beam load test, lifeboat davit load test, derrick load testing, overhead crane load test. So, this water-filled water weight bags offer one kind of innovative crane load test weights solution. Most noteworthy, it has the advantages of Safety, Economy, Convenience, High Efficiency.
Crane Load Test Video Using Water Weights
Herein, you can find the load testing video. You also visit our Youtube channel to see more videos.
More Water Weights Bags for Sales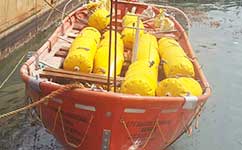 We have several other water weights used for the different proof load testing. Please visit below link to know more information.
Lifeboat load test water bags system is widely used for the distributed proof load testing for the lifeboat, gangway and other equipment that need distributed load testing.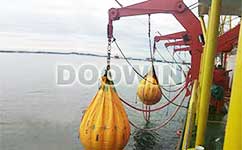 For static and dynamic lifeboat davit load test, DOOWIN offers lifeboat davit load test water filled weight bags specifically designed for this purpose. Lifeboat davit load testing is safely and efficiently achieved using water-filled weight water bags.
Gangway water bag test weights can be used for the load testing of gangway, accommodation ladder, small bridge, platform, floor and other long structures.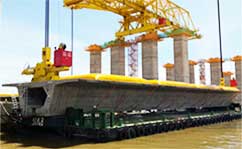 Deck load test weights include pillow shape and rectangular shape water tanks, open top water bags. These water bags can apply uniform load test weights on structures' surface.